Activities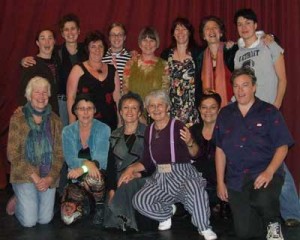 There is a small core of trustees who respond to opportunities from within the network and also create links towards the development of women and their creative input into performing arts. Inspiration and drive often comes from connecting up groups within Aotearoa with visitors from 'away'. There are many talented and experienced personalities who since the beginning of the Magdalena Project in the early 1990's are now part of a web across the globe. The forms of theatre and performing arts is varied, but always the story of the process has links within it across cultures and regions.
Past Events
From 1997 to 2010, Magdalena Aotearoa published 36 issues of a newsletter – the old-fashioned paper variety. You can download pdfs of most of the issues and some hard copies are available. Click here for more information.

From 2007 to 2010, Magdalena Aotearoa hosted a series of events called the Gatherings. These were based around work-in-progress presentations and the idea of giving and receiving constructive criticism about our work. Gathering III: A Performance Feast took place on Saturday 27 November 2010. This was the third and of three Gatherings held in 2010. The first, "What Is Magdalena?", was held on Saturday 5 June in Wellington. The second, "Art & Practice" took place on Sunday 29 August.
At Easter 2009, Magdalena Aotearoa held its third Gathering – five days of work-in-progress presentations, workshops, discussions and exchange. There are links to information about the Gatherings (2007, 2008 and 2009) on the Archive page.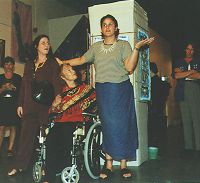 In 1999 we held the Magdalena Aotearoa International Festival of Women's Performance – a huge 10-day festival of performances, workshops and meetings attended by women from around the world. We hope to hold another such festival in the near future.
From time to time the Trust has produced other events such as the Making Waves workshop series (2000), the Magdalena Aotearoa Networking Party (2010, Wellington) and other workshops and meetings around specific topics; see the archive for information about past workshops and meetings.
Visiting Artists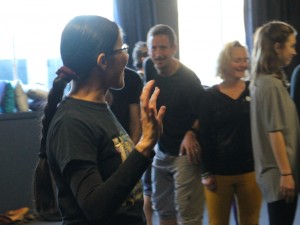 Magdalena Aotearoa organises visits to New Zealand by women theatre practitioners from around the world; see the archive for information about previous visiting artists.
International Festivals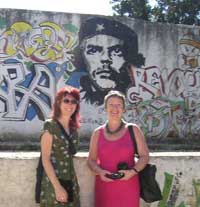 Members of the Magdalena Aotearoa network regularly participate in international theatre festivals and conferences, including Transit V at Odin Teatret, Denmark, 8-18 January 2007, and Magdalena Singapore, July 2006. See the archive for information about participation at international festivals.
Fundraising
The Magdalena Aotearoa Trust operates on a small project-by-project budget and is run by volunteers; we do NOT give grants.
The newsletter was funded through subscriptions; projects are funded by specific project applications, and we are very grateful to those individuals whose donations support our activities and overheads.
The Projects Handbook
The Projects Handbook was created as a resource for women starting out in theatre, and also for those who've been at it for a while but would welcome some handy tips. It's been gleaned from the collective experience of various Magdalenas over many years and through many productions and enterprises.