Six works-in-progress were presented at Recharge: the Gathering 2009.
Winter Overture: extracted — the spirit of the piece
Challen Wilson and Cathy Rexford
A reading of excerpts from this collaboratively written script by Challen Wilson and Cathy Rexford, an Inupiaq woman from the north of Alaska (Kaktovik). Challen will discuss elements of dance, theatre and orchestral/indigenous music that they are exploring.
The presentation will have the following format:
Extract 1 — Dance & Feedback with feedback
Extract 2 — Theatre with feedback
Extract 3 — Dance, Theatre & Music (live & recorded) with feedback
TBC — Small Group brainstorming session on "In Love" & "Break Ups"
The Hooligan and the Lady
Pauleen Hayes
Continuing the true story of Flossie Le Mar, "an outrageous, inspirational proto-feminis" who was a proponent for self-defence for women in the mid-1900s.
The Vegetable Phoenix
Madeline McNamara
"Phase 2 of my solo is inspired by the feedback I received at the 2008 Gathering and by comments on form from the book Bobby Baker, redeeming features of daily life. It involves "marshalling materials and inert matter", "setting boundaries", "relating of inner shapes to outer limits", and "abolishing of excessive content and materials"."
bodies without shadow(?)
Jack Trolove
The "bodies without shadow(?)" workshop is a way to open up the initial seeding (or sprouting?) part of creating work and to offer participants an interesting experience of working with materials to create visual starting points for thinking around an idea. The work will stem from ideas around (critical) whiteness, bodies and power.
Watch your tongue young lady
Judith Jones
A storytelling "which may include foot binding and Mexican Rose — the 54 stone Fat Girl exhibited in the Opitorium in the funpark at New Zealand's 1940 Centennial Exhibition in Wellington. And an egg beater. And maybe a kitchen maid in a castle."
Shadow of a White Rose in a Mirror of Silver
Jade Valour
The beginnings of a one woman theatre piece having to do with my decade-long fascination/obsession with the mythical figure of Salomé; from childhood murmurs-memories-steps, through Oscar Wilde and Richard Strauss extravagance, to the stirrings and fulfillment of two major works — film screenplay and novel. In images and colours, fits and snatches, arabesques and un-veilings, words and melodies.
The Bone Keeper's Story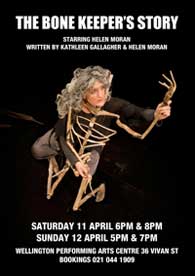 From the gritty beaches of Birdlings Flat, Canterbury comes Alannah, the character of the Bone Keeper. She's prophet, Greek chorus, earthy, sassy, and opinionated. The Bone Keeper's Story is her story told through poetry, movement, puppetry, and song.
That story is presented as physical, image-based theatre starring Christchurch-based actor Helen Moran. It was co-written by Moran and Kathleen Gallagher, and developed with a number of theatre artists over eight years. The final work is layered with influences and training from the vocal work of Rudolph Steiner, Michael Chekhov, and most recently workshopped with Lilicherie McGregor.
Moran explains, "The work is a kind of contemporary myth that dwells in the world of archetypes. The Bone Keeper is a fisherwoman over 50, a wild woman, a contemporary hag. She questions the values of the consumer society and looks for other ways to live."
Moran shares the stage with a life-size driftwood skeleton puppet made by Mike Coughlan. "The staging is simple: driftwood in drifts, and three major props — a frame drum (Bodhran), rainstick and the driftwood skeleton. In this context Alannah reveals her story — a profoundly intimate journey of an all too human soul facing the fears and reality of her isolation and ultimate belonging."
Wellington Performing Arts Centre, 36 Vivian Street
Saturday 11 April at 6pm and 8pm
Sunday 12 April at 5pm and 7pm
Admission Price: $15, $12 concession
Bookings: 021 044 1909.
For further information contact:
Wellington publicist: Mary-Jane Duffy 021-213-2257