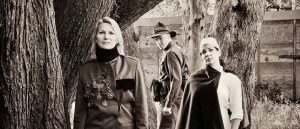 After Sisters in Arms finished performing in Nelson and Dunedin, Sanja, Anastasia and Jugoslav visited Wellington where they met Wellington Magdalenas & over dinner in back gardens, roams on beaches, and arts tours. (Previous working title Women at the Front – see earlier post).
The work they created is inspirational – to draw together stories Serbian and Kiwi – made in a unique Ake Ake / Hleb form. Read an interesting review here.
Sisters in Arms
Written and devised by Hleb Teatar (Serbia) and Ake Ake Theatre Company (NZ). Co-directors: Sanja Krsmanovic Tasic and Jessica Latton.
Original music and arrangements of traditional songs by Jugoslav Hadzic. Performers: Sanja Krsmanovic Tasic, Anastasia Tasic, Jugoslav Hadzic, Jessica Latton, Rhys Latton.
Based on the performance Tales of Bread and Blood – An essay in movement, written and directed by Sanja Krsmanovic Tasic.