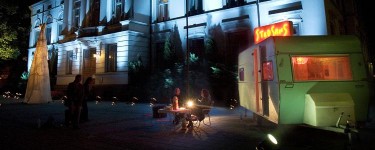 An International exchange sharing processes for creating transformative arts projects to enliven dormant city centres. Suitable for arts practitioners, city planners, community workers.
From 1.00pm until 5.00pm
Venue: Toi Poneke Arts Centre - Wellington City
61 - 69 Abel Smith Street
http://wellington.govt.nz/services/community-and-culture/arts/toi-poneke-arts-centre/about-toi-poneke
Cost: Adults $120 Concessions and Fringe Addicts $60
Geddy Aniksdal and Lars Vik will lead these three sessions in a workshop for practical and conceptual action towards invigorating city spaces, working collaboratively across arts forms and with community and holding a firm professional eye over an end goals professional product.
Stedsans - Sense of Place in Norway is a successful walking theatre experience. They have also explored this model in other cities and countries.
Geddy and Lars are also generous and funny people with a serious work ethic.
There are 22 places available.