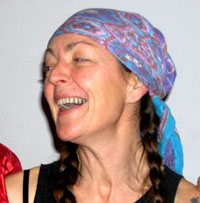 Physical performance workshop with Geddy Aniksdal
From 11am until 2pm
Venue: Old Folks' Association Hall
8 Gundry Street, Auckland
Cost: $25
Physical, training, plastiques, vocal work with Geddy Aniksdal.
The focus is on the connection between training and improv, from 'cold' technical work to a 'warmer' personal work. Through this work the actor will challenge her/his own imagination and develop skills. The work is demanding.       
For adults aged 16+; limited to 24 places.
Bookings: theatrekore@hotmail.com