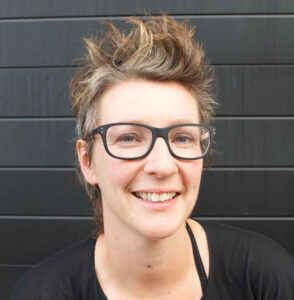 Congratulations to Jo Randerson, who has been named an Officer of the New Zealand Order of Merit, for services to the performing arts. As well as her significant contributions to the performing arts quoted below on the official announcement, Jo has enjoyed a long association with Magdalena Aotearoa and the Magdalena Project internationally.
Ms Randerson co-founded the theatre group 'Trouble', whose show 'Bleach' was part of the 1998 New Zealand Fringe Festival and toured to the Edinburgh Festival and the Tramway Festival. She received the Bruce Mason Award for her first play 'Fold'. She founded her own theatre company, Barbarian Productions, whose award-winning shows have played in Melbourne, Prague, Edinburgh, Adelaide, Norway and Brisbane, as well as nationally. Through Barbarian Productions she has supported projects benefiting communities and creating dialogue opportunities. Such projects have included 'Kids Election', run alongside Te Papa's Suffrage 125 exhibition and allowing children to have a 'hands-on' look at democracy, the music theatre project 'Sing It To My Face', a cross-generational choir performance exchanging inter-generational viewpoints, and 'Political Cutz', a pop-up hair salon offering free haircuts in exchange for political conversations. She received the Robert Burns Fellowship, the Creative New Zealand/Department of Conservation Wild Creations Residency at Cape Kidnappers, and was a Winston Churchill Fellow. In 2008 Ms Randerson was recognised with the Arts Foundation New Generation Award and she has been involved with a community re-purposing a former bowling club as a creative space in Vogelmorn.
Fellow playwrights Angie Farrow and Viktor Roger were also honoured, along with Playmarket director Murray Lynch. It's great to see their work acknowledged.