Deborah Hunt and Helen Varley Jamieson are amongst more than 30 women theatre-makers and performers featured in the programme of Magdalena München Saison 2018 – a three-month season of women's performance taking place from 2 February until 28 April 2018 in Munich, Germany.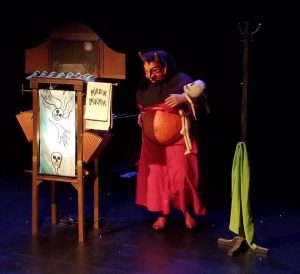 The season is based around artists' residencies at the Villa Waldberta, funded by the Cultural Department of the city of Munich. Maskmaker and Puppeteer Deborah Hunt will be a guest at the Villa during February. She will present her solo performance Tale 53; Snowhite and lead a workshop, The Macanudos, which will culminate in a colourful public parade. Zoe Gudović (Serbia) will also be a guest at the Villa during February, and she and Deborah will collaborate on a performance for the Break through series, which takes place in a 1m square window at the studio of performance artist Dorothea Seror, in Munich's Kreativquartier.
Other guest artists from the Magdalena network who will have residencies at the Villa Waldberta are Kordula Lobeck de Fabris (February, March and April), Thaís de Medeiros (February, March and April), Jana Korb (February), Teatret OM (March), Jill Greenhalgh (April), Annie Abrahams (April), Sylvie Marchand (April) and Claudia Urrutia (April). Helen Chadwick will be a guest at Ebenböckhaus, another Munich artists' residency, during March. Gilla Cremer, Amaranta Osorio and Yamile Lanchas will also participate in the programme.
Participating Munich-based artists are Martina Marini, das KloHäuschen, Helen Varley Jamieson, Prayer for the Mothers, Elis & Catherine, Raquel Ro, Cecilia Bolaños, Sinai Solis, the Hercules & Leo Case, Sabine Bollenbach, Mira Mazumdar and Dorothea Seror.
The full programme of performances, workshops, installations, discussions and more can be found at www.magdalenamuenchen.de.
If you're planning to be in Munich during the season and want to participate in a workshop, there is a 10% discount on workshop fees until 31 December 2017.