During 2015 there will be Magdalena events in Magdalena München (Germany), Montpellier (France) and Rio de Janiero (Brasil).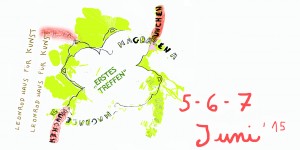 The first is a Magdalena München (5-7 June), intending to start the network within Germany and plan for a festival in the future. While there have been many German participants at Magdalena festivals over the years, and artists such as Gila Cremer and Kordula Lobeck de Fabris have been involved from very early on, the network is not strong in Germany. Helen Varley Jamieson, who now lives in Munich, has initiated this meeting and is curious to see who will come, and what their desires and needs are. So far, there is a lot of interest from women artists who say that they really feel the need for a network like this.
"Ouverture(s)" is the name of the festival that will take place in Montpellier, 22-26 September, organised by Marion Coutrel. The theme of the festival explores singularity and diversity, and it is hosted by La Bulle Bleue, an arts organisation at the heart of which is a company of professional actors with disabilities.
From 31 October to 7 November, Magdalenas from around the world will gather in Rio de Janeiro for Multicidade, a festival organised by Jadranka Andjelic (formerly of Dah Theater, Serbia, Jadranka participated in our festival in 1999 and visited NZ again in 2006 to give talks and workshops), Eveline Costa and Paola Vellucci. This festival will focus on contemporary and multimedia productions.
There will be many familiar faces at all of these festivals. If you are in need of an injection of Magdalena magic, choose your festival, register, and organise your travels!