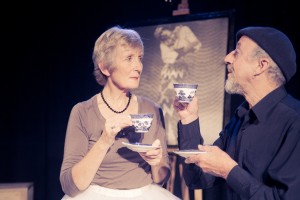 Dear Wellington Friends
This is to let you know about the performance on Sunday 14th June in Upper Hutt of Meeting Karpovsky, with Sir Jon Trimmer. It is part of a 22 show NZ tour with Arts on Tour and this is the final show of our tour. We are not coming to Wellington this time unfortunately.
Please send this on to interested friends. All information about the show and the performance is below.
Do hope you can come!
Good wishes
Helen
Meeting Karpovsky
With Helen Moulder and Sir Jon Trimmer
Directed by Sue Rider
"Pure magic ….. together they are magnificent" – NZ Listener
"Best New Play – Christchurch 2002" – The Listener
"Actress of the Year" – Chapman Tripp Theatre Awards
Ballet dancer Sir Jon Trimmer and actor Helen Moulder, have combined their talents with Australian director Sue Rider, in a unique combination of drama and dance.
"In the dance of life Sylvia has two left feet, but Karpovsky has arrived to tutor her in hope and grace. Years ago, Sylvia travelled the world and its greatest ballet theatres; now she lives alone in a house filled with photographs of her favourite dancer and boxes of her daughter's unwanted possessions. Sylvia knows all the dances and has all the moves in her head, but is afraid to step out. Then the great dancer Alexander Karpovsky – she has seen him dance 127 times – turns up mysteriously in her lonely room and breaks through her brittle cocoon."
"An extraordinary new work full of humour, delight, drama and surprise, Meeting Karpovsky is an enchanting play. I can't remember when I last saw a production this heart-warming. I'm still smiling." – NZ Listener
"Strikes a unique chord – a must-see" – The Press
"Delivers the kind of rewards that only live theatre can offer" – NBR
Sun 14 June 8pm Upper Hutt
Expressions Arts and Entertainment Centre
$20