Four Theatre Events with Grenland Friteater from Norway
Friday 20 – Sunday 22 February
Old Folks Assoc Hall, 8 Gundry Street, Auckland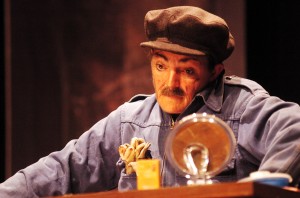 DOUBLE BILL: MY LIFE AS A MAN and THE NOBLE ART OF FALLING
Fri 20-21 Feb 8pm-10pm
Geddy Aniksdal's acclaimed solo performance (more information here) followed by Lars Vik's work demonstration (more information here).
WORKSHOP WITH GEDDY ANIKSDAL
Sat 21 Feb, 11am-2pm
Physical, training, plastiques, vocal work with Geddy Aniksdal; for adults 16+, limited to 24 places. More information and bookings here.
MR FUMBLEBODY
Sun 22 Feb 3-4pm
A children's CLOWN show by Lars Vik; more information here.
CLOWN WORKSHOP
Sun 22 11am to 2pm
Learn how to make a clown performance with Lars Vik – a funny clown; for students year 9 – 13 (13 – 18 years).Limited places (24 only) – click here for more information and registration.