Information about the presentations, presenters and participants at the 2008 Gathering and – importantly – the draft menu.
The Bonekeeper – Helen Moran
"The Bone Keeper's Story is a different piece to what I presented as a work in progress," says Helen. This show that has had quite a journey – let's see where its next stage of evolution has taken it to. At right, Helen and her co-star during the feedback session at the 2007 Gathering.
Madeline McNamara's solo show
Madeline has been talking about her solo show for at least ten years now, while simultaneously creating devious diversions, performative procrastinations, scholarly sidetracks and worthy wriggle-outs. Will it be a no-show, a know-show, a Noh show or an I-told-you-show? Or a no drama? Does she (k)no(w)?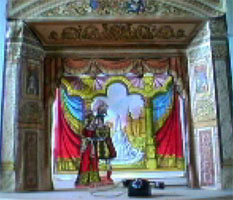 a gesture through the flames – Helen Varley Jamieson
This is a short cyberformance that Helen presented in January for a series of web cam performances, Breaking Solitude, organised by French artist Annie Abrahams. See documentation of that performance. At the Gathering, Helen will give the performance as a demonstration of the creation and performance of cyberformance – live performance on the internet. The show is based on Sally Rodwell's story; it features audio by Peter Winter and Sally, and a Pollock's toy theatre from Helen's childhood.
Diane Spodarek
Diane is a writer, performer, musician and yoga teacher. Her play Winter was one of the works-in-progress at the 2007 Gathering and will be produced at BATS Theatre, Wellington, in July this year. Diane will present a new work-in-progress, and contribute to the training sessions and discussion.
Jan Bolwell
Dancer, choreographer, writer and performer Jan Bolwell talk about the experience of developing her solo show about her grandmother, Here's Hilda, and will read exceprts of her new script-in-progress, about the painter Francis Hodgkins.
Janet Dunn
With a long history of costume design in film, television and theatre, Janet has recently completed a Masters degree in environmental fashion. She writes:
"I would like to offer a presentation based on my recently completed masters thesis called ReFashion ReDunn.My research looks at the use of post-consumer recycled materials to make new fashion and can also be applied to costume in the context of sustainability.The work looks at the provenance of materials, community and ritual in dressing relating these ideas and philosophies to a theme of survivalist fantasy. I would like to throw this theme to the participants as an idea for making a performance."
Jade Valour
A singer/songwriter/actress/writer/vocal coach from the USA, living in Germany and presently on an extended stay in New Zealand, Jade will present a quasi-autobiographical screenplay – a satire on the music industry with original music by Jade – which she intends to rework for the stage.
PANEL: Giving and receiving feedback: a group discussion to set the ground-rules for the feedback sessions and to look at how we can most usefully give and receive feedback; this will follow a similar format to the opening presentation at last year's Gathering, and everyone who has had experience of asking for and receiving feedback on their work is invited to contribute to the discussion.
PANEL: Community arts and activism: panel discussion to be facilitated by Madeline McNamara and Chrissie Butler: an opportunity for a variety of leading community theatre performing arts practitioners based in Wellington to hear about each others' work and discuss issues of mutual relevance. The panel includes members of Interloper, People Theatre, Acting UP, Heather Timms (who works with youth at risk and refugee/migrant communities) and Ti Whanawhana.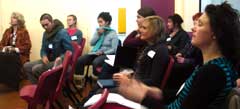 PANEL: Training: panel discussion to be faciliated by Jessica Sutherland, to discuss ways on developing and maintaining your own physical training. This will be in conjunction with daily morning physical warm-up sessions that will cover a variety of techniques including yoga, tai chi, Shizen Taiso and vocal work.
PANEL: Arts Infrastructure: a panel discussion about the business and administrative side of making theatre; Martin Rogers from the WCC have been invited to participate, and Emily Buttle of Empress Stilt Dance will talk about her experience of developing her company;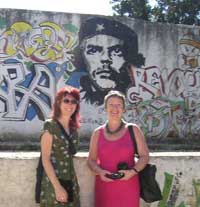 Magdalean Sin Fronteras, Cuba
Helen Varley Jamieson will report back on her recent attendance at the Magdalena festival in Santa Clara, Cuba, in January.
Pictured at left, Helen with Gilly Adams (UK, Magdalena Project Advisory Board) in Santa Clara.
Tine Madsen – Shizen Taiso (Denmark)
Tine Madsen in a theatre director from Denmark who is currently a trainee at the Auckland Refugees As Survivors Centre; she will talk about her theatre work as well as her present studies of intercultural social work, and can also offer sessions of Shizen Taiso. She explains:
"Shizen Taiso means 'natural movement' and is a method developed by Junko Ikeda (b. 1934, living in Tokyo). I have worked with Junko since 1996, and was acknowledged as a teacher of Shizen Taiso in 2002. Since then I have taught it regularly to actors' students, actors, dancers, singers, therapists etc. It's a very useful basic training which has an effect in itself but also is extremely useful as a support for other methods and systems: dance, actor's training, voice work, yoga, martial arts etc. You could call it a basic training of awareness, flow and communication. The basic principle is that of interacting with the force of gravity – in all positions – letting the movement start from the very base and searching for a flow of movement through the body, also exploring the interaction with the surroundings: other people, objects, the room etc. A fundamental point of view is that being relaxed means being ready and moveable. There is a lot of partner and group work involved."

Emily Buttle
After performing as a stilt dancer in Europe for ten years, Emily returned to New Zealand in 2005 and established Empress Stilt Dance as a company. She is now employing staff and sending performers to gigs around New Zealand, Australia, Asia and Europe. Emily will talk about her transition from a performer to the business side of things.
Martin Rogers
A former BATS Theatre programme manager, Martin did a stint at Creative New Zealand before moving to Nelson where he was the CEO of Nelson Arts Marketing for several years. He is now back in Wellington as the new Arts Advisor for the Wellington City Council.
Jessica Sutherland
Jessica is a director, performer, yoga teacher, Magdalena Aotearoa trustee and mother. She will facilitate the discussion on Training and contribute to the training sessions.
Melissa Billington
Melissa is an actor and yoga teacher, and will contribute to the training sessions and discussion. She has recently initiated and led a course called The Actors' Practice which she will also talk about.
Julie Lamb
Julie is not only the much appreciated Accountant for the Magdalena Aotearoa Trust, she is also a singer. Julie will contribute to the training sessions.
Magdalena Kitchen Queen Moira Aberdeen will be preparing delicious lunches and morning and afternoon teas to sustain us through the five days – her draft menu is below. There will also be freshly ground coffee, kindly donated by the wonderful People's Coffee. Dinner on the first night (Thursday 20th) will be a pot-luck (bring a plate) at the Community Centre. On the following nights, we will make group bookings at local restaurants and cafes. These dinners will be around $12-$15 each. The lunches and morning/afternoon teas (as described below) are included in your registration fee.
Fri 21 March
Morning Tea
Fresh Fruit
Date and Lemonade Scones
Shots of Iced Mint Tea
Lunch
Kitcheri (White Basmati Rice,split mung dahl & veg dish)
Dahl & Brown Basmati Rice
Salads
Afternoon Tea
Nuts etc and Baguette/Lebanese bread with Dukkhas
Saturday 22 March
Morning Tea
Fresh Fruit
Shortbread
Shots of Carrot Juice
Lunch
Build Your Own Sandwiches* – selection of breads incl Vogel Rye & Rice and Ryvita crackers for the wheatfrees
Afternoon Tea
Spongata (Italian pastry with fruit)
Nuts etc
Sunday 23 March
Morning Tea
Fresh Fruit
Anzac Biscuits
Shots of Smoothie (either Fruit/Choc/or Spirulina )
Lunch
Marinated Chicken drumsticks
Roast Potatoes
Arborio Saffron Rissoto with seasonal Vegetables
Salads
Afternoon Tea
Ginger Crunch
Monday 24 March
Morning Tea
Fresh Fruit
Peanut Square
Lunch
Filos (Spinach and Feta and/or veg & bean filling)
Salads
Puliogare for the wheat-frees
A/Tea
Cheese Scones
Nuts etc
Tuesday 25 March
Morning Tea
Leftovers if any/BYO/ or shortbread made in advance
Lunch
Leftovers or dish Moira prepares in advance