The workshops and panels at the National Gathering were:
Giving and Receiving Constructive Criticism
9.30-12, Friday 6 April
Presenters: Helen Moulder, Lyne Pringle, Kilda Northcott and Jo Randerson
This panel discussion will present practitioners' experiences of seeking feedback on their work over a period of time – how they set out to receive the kind of feedback they were looking for, and how they then used this in further development of the work. It will help participants to focus on what they are looking for in feedback and criticism regarding their own work, how to give constructive feedback to others, and what to do with feedback when you get it.
Planning for Development
9.30-12, Saturday 7 April
Convenors: Mel Hamilton & Helen Varley Jamieson
In this workshop, participants will create a timeline for the development of their work, identifying key stages and events e.g. work-in-progress showings, funding deadlines, and resources (including people) that might need to be brought in.
Voice Workshop
9.30-12, Sunday 8 April
Tutor: Mahinarangi Tocker
A renowned singer-songwriter of Maori, Jewish and Celtic descent, Mahinarangi Tocker will lead a practical voice workshop that will improve participants creativity in song writing, singing and performance skills, and encourage new discoveries in breath and movement. The workshop will include games and exercises around improvisation, listening and performance.
Mahinarangi will also perform at Happy (corner Tory & Vivian Streets, Wellington) on Saturday 7th April; Gathering participants will receive a discount to her concert.
Creating an Ensemble
9.30-12, Monday 9 April


Facilitator:

Jessica Sutherland


A panel featuring practitioners from ensembles including some of the presenting artists. How – in the nature of the world that we live in – do we create an ensemble of artists? Do we need to? How is it different or the same as other countries?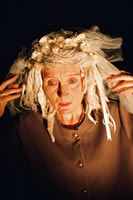 Guest presenters and facilitators:
Helen Moulder: Helen kindly interrupts her extensive national tour of "Playing Miss Havisham" (pictured at right) to speak to us about her creative process for this and other works. Helen's career as a performer and theatre maker spans 30 years and includes appearing in the women's comedy series Hens' Teeth.
Lyne Pringle: leading senior dance practitioner Lyne Pringle (pictured below) will talk about her experience of developing the award-winning dance theatre piece "Fishnet" (with Kilda Northcott) over several years. "Fishnet" explores the role of older women in dance and theatre. Lyne has choreographed and produced numerous dance works and has performed with a number of leading New Zealand choreographers.
Kilda Northcott: Lyne's collaborator Kilda Northcott (pictured below) is also a leading senior dancer and choreographer and will talk with Lyne about the development of "Fishnet". Kilda was a founding member of Limbs Dance Company and the Douglas Wright Dance Company, and directs the Kilda Northcott Youth Dance Company. Her collaboration with Lyne Pringle is Bipeds Productions.
Jo Randerson (pictured right): a New Zealand based writer, comedienne and director, Jo (pictured right) has presented her performances internationally and won awards including the Bruce Mason Playwrights Award, Robert Burns Fellowship and Winston Churchill Fellowship. She has recently been seen roaming around Europe with a circus troupe.
Mahinarangi Tocker (Ngati Raukawa, Ngati Tuwharetoa, Ngati Maniapoto, Jewish and Celtic ancestry): for more than 20 years, Mahinarangi (pictured above) has been writing music and collaborating on productions including Michael Parmenter's "Jerusalem"; she will lead a practical voice training workshop.
Mel Hamilton: a freelance producer working with companies such as Barbarian Productions. Mel (pictured right) is also a performer, publicist and sometimes technician. A yoga enthusiast and dancer, she very much loves the world of clowns. She will co-facilitate the workshop Planning for Development.
Helen Varley Jamieson: co-facilitating with Mel Hamilton is Helen Varley Jamieson, whose recent work includes producing Demeter's Dark Ride – An Attraction and managing the 2006 NZ visits of international theatre artists Rosa Casado, Jadranka Andjelic and Antonella Diana.
Jessica Sutherland: co-director of Ake Ake Theatre Company, Jessica will facilitate the panel discussion on Creating an Ensemble. Jessica has worked with many ensembles creating devised work and she has trained at Ecole Jaques Le Coq (Paris), Dah Theatre (Belgrade) and Pantheatre (Maleragues) as well as completing a Master of Theatre Arts (Directing) through Toi Whakaari and Victoria University.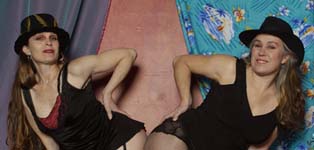 Above: Kilda Northcott and Lyne Pringle in Fishnet