Hello Wellington Friends
Hens Teeth is coming back! In case you hadn't heard.
March 14 – 25
Circa Theatre
As you probably know, some of us have passed on, but a few of the old gang – Cooking with Condoms, (Prue Langbein) Dame Kate Harcourt, Cathy Sheat, Cynthia & Gertie, (Rose Beauchamp and I) and Darien Takle will be on board, led by our new MC (Mother Chook) Pinky Agnew AND a troupe of new performers. Do hope you can come and bring a group!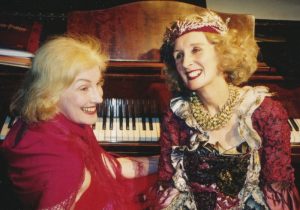 Haven't got photos of the others yet but here's Rose and me, back in the day.
Since it first premiered at Circa Theatre back in 1988, Hens' Teeth (A Season of Women Comedians) has broken box-office records! The secret of the widespread popularity of Hens' Teeth is simple: it is women being funny. And not only are these women funny, but they are funny about things that are part of the fabric of most women's lives.
Book at Circa 801 7992 or www.circatheatre.co.nz
Please pass this on!
Many thanks,
Helen